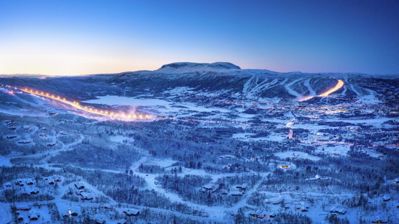 The conference programme will be displayed here in due time.
The plan is to start on Sunday afternoon and close the conference to lunch on Wednesday.
We will allocate at least one long lunchbreak for your own activity - indoor spa/pool or outdoor ski leasure
The programme below was for NECS 2023
Scientific progamme: From Monday, Jan. 30. 08:00 to Wednesday, Feb. 01. 12:00.
Registration desk: From Sunday, Jan. 29., 16:00 in the hotel reception area.
Welcome reception: Monday, Jan. 31 in the hotel sportsbar after dinner.
Posters: may be mounted in the allocated conference room from 16:00 on Sunday
Abstract submission: Dec. 15. 2022. See abstract page for details
The working language: English
Extra time Sunday afternoon: On arriving in the afternoon, you may enjoy skiing, view posters, rest in the sportsbar with early registrees, or allow youself a timeout in Vestlia Spa, or only do what you like!
Extra dinner Sunday: If you register Sunday Jan. 29., the evening dinner is included.
Scientific progamme schedule: The initial Progamme at a glance is shown on below.
Time for invited contributions 30 minutes duration including discussion.
Time for submitted presentations: 15 minutes including discussion.
Posters and Poster formats
Posters can be displayed in the conference room from Sunday afternoon to Wednesday. The size of the poster board is 1000 x 1200 mm (W x H). Normal AO formats (841 x 1189mm) are thus useful. It is important that your audience is able to view the material and make sense of it from a distance of 1.5 to 2 meters. "Less is better". Appropriate materials for mounting posters will be provided. Poster viewing will be given equal prominence and ample time during breaks
16:00 -
20:00
Programme Version Nov xx. 2022
Registrations opens
Dinner
08:00 - 08:20
08:20 - 10:10
10:10 - 10:40
10:40 - 12:00
12:00 - 15:30
15:30 - 17:10
17:10 - 17:40
17:40 - 19:00
19:00 - 20:00
20:00
Welcome and Opening remarks
Oral presentations
Break - Poster viewing - Exhibition

Oral presentations
Lunch and free recreation activities
Oral presentations
Break - Poster viewing - Exhibition

Oral presentations
Welcome reception
Dinner
08:00 -10:20
10:20 - 10:50
10:50 - 12:00
12:00 - 15:30
15:30 17:10
17:10 - 18:00
18:00 - 19:30
20:00
Oral presentations
Break - Poster viewing - Exhibition

Oral presentations

Lunch and free recreation activities

Oral presentations

Break - Poster viewing - Exhibition

Vendors section. Presentations from Exhibitors
Dinner
08:00 -10:20
10:20 - 10:50
10:50 - 12:00
12:10
Oral presentations
Break - Poster viewing - Exhibition

Oral presentations
Closing remarks